Archive in the Clubhouse - Watch What Happened!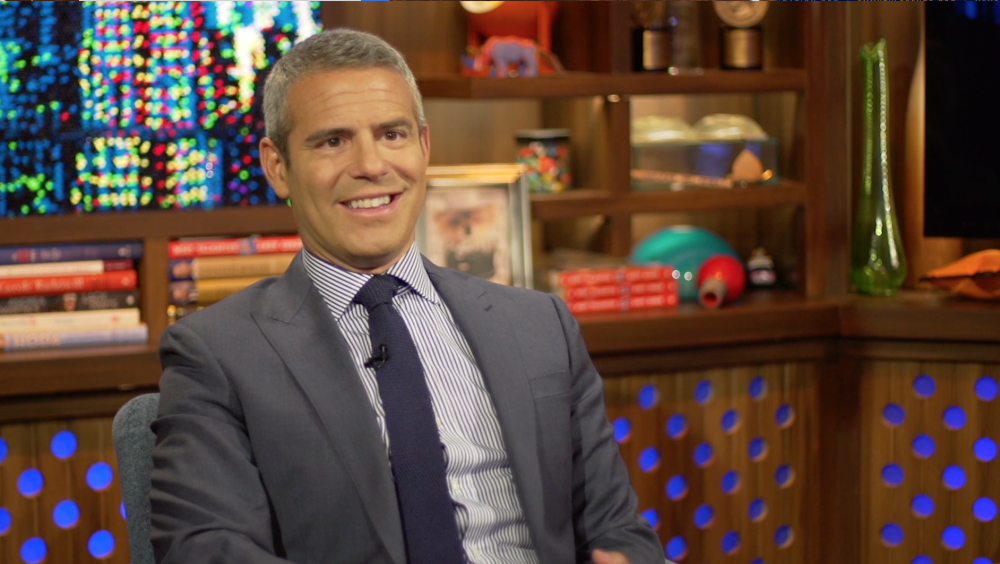 After conducting nearly 100 interviews with television writers, producers, journalists, and legends - many who had been working in the industry on shows that originated on radio -- my friends were curious why I was so excited to interview the creator of "Bravolebrities."
Reality TV certainly gets its share of hard knocks. After all, it's given a platform to people famous for nothing more than being famous and the entire genre has been blamed for bullying scripted television out of existence. And yet I had more people pepper me with questions about my interview with Andy Cohen than I did for interviews with Vince Gilligan, Betty White, and (Cohen's touring-pal) Anderson Cooper, combined. The Emmys have only recognized reality television programming since 2001, but "unscripted" television has been around long before Terese flipped tables on RHONJ. Before "Gym-Tan-Laundry", "Make it work!", "Please pack your knives and GO"... there was MTV's The Real World, there was An American Family, and before all that, there was Candid Camera. But there is a decidedly different flavor to the genre of shows that Cohen has made a source of public-bonding. But how real is this Reality?
Stepping into the pop-culture Narnia that is the Bravo Clubhouse is pretty unreal itself. Yes, the booze is real. Yes, the skyline image of St. Louis that frames the host of Watch What Happens Live IS made out of Lite Brite. I "plead the 5th" over whether or not I did a shotski. But I did freak out over the 'Giggy' photo. The entire set is a shrine to the freakishly exquisite world of characters that Andy Cohen has promulgated. But as soon as we sat down to talk, what you immediately sense is how real these characters, these actual people and their stories are to Andy Cohen. He knows his audience. He knows that they identify with the characters on his shows -- and also judge them, love/hate them, feel empathy for them, but mostly, want to TALK about them. And he bet on the fact that if he finds these characters interesting, that audience will, too.
Like The Real World's creator, Jonathan Murray, Cohen cut his chops in TV News. Some may be surprised to learn the person responsible for Being Bobbi Brown and The Kardashians was a senior producer for Dan Rather on 48 Hours, and won a Peabody Award for The N Word. Cohen readily admits that the "Bravo wink" comes directly from what he learned at 48 Hours: A typical edit shows a Real Housewife talking about being healthy, then the camera cuts to a shot of her smoking. But Cohen insists they are not making fun -- "it's just about letting the reality tell the story. We were winking at the audience from the edit room."
Cohen's current mantra is that if it happens on-camera, it's in the show. He did have a moment that gave him pause early in his career, while interviewing the writer Nicholas Sparks: "While the crew was there (Sparks) got a call from home saying that his father had died. And he called me up and said, 'this is the most personal moment of my life. I beg you not to use it.'" And Cohen not only didn't use it -- he didn't tell anyone the tape even existed. But by contrast, his attitude towards Real Housewives is more fly-on-the-wall. And that fly catches everything. Cohen said, "I've had countless calls from people, 'please don't use the fight between my sister Kim and I in the back of the limo.'" Sorry -- you signed up for a show about your life and we're going to air everything. We aired Vicki Gunvalson getting a phone call from her daughter telling her that her mother died. And it was the most real moment I think in Real Housewives of Orange County. Would I air Nicholas Sparks getting the call if it happened now? It would certainly be a discussion."
One thing that is undeniable about meeting Andy Cohen in person is that he is exactly the same off-camera as he portrays as the host of Watch What Happens Live or refereeing the Housewives reunions. When our crew was wrapping up on set, Cohen immediately ducked into the adjacent edit room, and began giving notes on that night's episode. You get the sense he's still watching as a viewer, completely captivated by what is unfolding. And that captivation is clearly infectious. So, enjoy. We know you're watching.
On his mentors and lessons learned from a disastrous interview he conducted with Robin Williams:
On learning it was "all about the characters" at 48 Hours:
On "Bravolebrities" and coining that term:
On the success of The Real Housewives Franchise as "Theater of the Absurd":
- by Jenni Matz