Anderson Cooper: Journalist. Moderator. Press-pass Forger.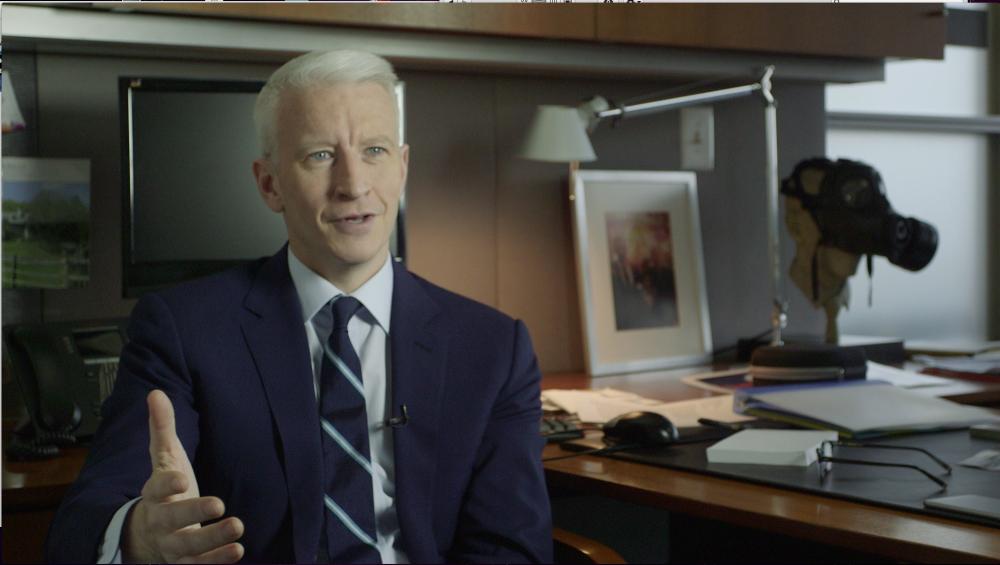 Anderson Cooper is a name familiar to nearly all of us today as the host of CNN's AC360, a frequent contributor to 60 Minutes, and moderator of the second Presidential Debate between Hillary and Donald, airing Sunday, October 9. We have watched him cover major news events for years - from war zones and natural disasters, to U.S Presidential elections and celebrity interviews.
But many may not know of Cooper's beginnings and early losses. Although he was born into fame and privilege as the son of Gloria Vanderbilt, Cooper made his name his own. The death of his father, Wyatt Cooper, created a drive to be self-sufficient. And so he went on his own to Africa at age 17 to learn survival skills. Later, the tragic death of his brother motivated him to go out and earn his colleagues' respect as a journalist -- even faking a press-pass to get him into Burma to cover a student rebellion with his own camera (a Hi-8, which he still has), the Rwandan genocide, and the famine in Somalia. He submitted those self-produced reports to Channel One, which was his first entree into news reporting. He explained his work ethic in his interview, "You work harder than anyone else around you, you out-hustle everyone else around you, you show up first and you leave last, and you volunteer for all the stuff that nobody else wants to do and you put yourself in positions where when things happen-- you're the one who's on camera."
There are pivotal moments in history, now part of our collective consciousness, that Cooper was there to cover and inject his own perspective on. In his interview he talked about that struggle -- maintaining neutrality when facing a real life tragedy -- and how sometimes the response is so visceral that it's difficult to maintain an objective point of view. We watched as he confronted Senator Mary Landrieu on-air during Hurricane Katrina when she was thanking Congress for their aid -- pointing out to her that there were still dead bodies in the streets of Mississippi. We watched as he put down his camera to help a local boy, caught in the midst of chaos in the aftermath of the 2010 earthquake in Haiti, and carried him to safety.
On witnessing tragedies first-hand, Cooper said, "This isn't about me. This is about these people who are suffering and I'm privileged to be here and bear witness to their suffering. There is no magic way to deal [with it]. I think it should keep you up at night. It should make you cry and it should change who you are. And it should always do that. It does that now [to me] just as much as it did 20 years ago."
In the clip below, he explains the moment when he realized he had becomed desensitized to what he was reporting, causing him to leave news altogether and take a job as the host of ABC's The Mole. He keeps that memory close.
But 9/11 was the event that made him return to hard news. "The world has just changed and here I am on a reality show... it's been a nice year off, but I'd like to get back to what I really love."
As our interview wrapped, Cooper shook every member of our crew by hand and thanked us by name. He had spent almost four hours talking to us that day. He got up, walked straight to the newsroom outside his office, and within minutes was back on-air, covering the stories of the day. Of his career he said, "I can't believe that this has all happened. From when I started out with this idea of going to wars by myself, building a little fake press-pass and a hand-held camera, that I've actually able to kind of forge a life out of it. And I'm very, very lucky."
Cooper has said he finds elections "fascinating" -- he covered the 2007 Presidential race and the 2012 Presidential election for CNN, and moderated Presidential debates for both. This weekend, he will put his moderator's hat on once again, to cover the second Presidential Debate in the 2016 election.
He told us what he thinks makes a good interview - listening is key. Think these qualities he names also make for a good debate? Given the media maelstrom that erupted in the past 48 hours over both candidates, we expect it will be a memorable night on television. Tune in Sunday to see if Debate #2 meets your expectations.
- by Jenni Matz