A MUST SEE - The Writer's Cut: A Conversation With Vince Gilligan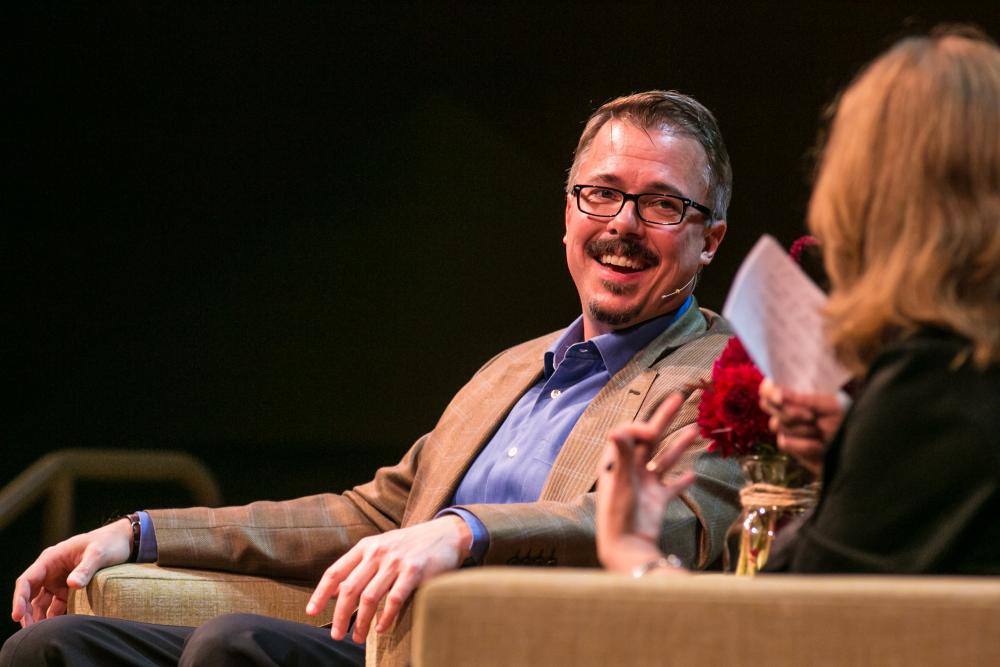 We were honored to be part of a fantastic event this past Friday, October 18, 2013. In collaboration with The Library Foundation of Los Angeles, our own Vice President, Karen Herman, moderated "The Writer's Cut: A Conversation with Vince Gilligan." Gilligan created the Emmy-winning drama Breaking Bad, and we were thrilled to sit down with him last week for a second time (we interviewed Gilligan for the Archive back in 2011). There was a lot of new ground to cover in the past two years, and here are Five Things We Learned About Vince Gilligan and Breaking Bad from Friday's event:
1. Vince loves libraries.
His mother, Gail Gilligan, was an elementary school teacher and reading specialist in Richmond, Virginia. After school, Vince and his brother used to wait in the library for their mother to finish grading papers, and the setting piqued his interest in writing.
2. Meth was a must.
When he pitched Breaking Bad, some networks loved the idea, but without the meth. One network asked him to change the premise to make "Walt" and "Jesse" counterfeiters. Gilligan declined.
3. "Walt" evolved along with the show.
The longer Breaking Bad was on the air, the more Gilligan learned about "Walt." Gilligan considered the series a six-year journey during which he psychoanalyzed "Walt" and kept uncovering new aspects of the character right up until the end.
4. Vince didn't always know what to do with that gun.
When Breaking Bad filmed the "flash-forward" scene that kicks off season five, he didn't know how the series would end. He had no idea how the M60 machine gun would figure into the finale. At some point he considered not using it, but then remembered Chekhov's rule that "if you see a gun in act one, you have to fire it by act three."
5. "Baby Blue" wasn't planned from the get-go.
Gilligan found the song "Baby Blue" (by the band Badfinger) by pure happenstance. He was driving to work one day when he heard the song on the radio. He thought, "I love this song, but how come no one ever plays it?" Months later, he remembered it, and despite being, by his own admission, "a bit on the nose," he knew it was the perfect song with which to end the series.
See what else Gilligan discussed in "The Writer's Cut: A Conversation with Vince Gilligan" - full version:
And for even more with Vince Gilligan, check out his nearly four-hour Archive interview.