A Curtain Rod on a Sassy Broad: Burnett's "Went with the Wind!" Turns 35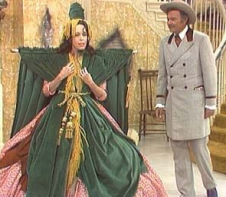 "I saw it in the window and I just couldn't resist it."
That plush green velvet, those stringy gold tassels, that sturdy curtain rod... "Starlet O'Hara's" make-shift drapery dress is one of THE most recognizable ensembles in all of television. And Starlet sashaying down the grand staircase, proud as punch of her outfit, garnered one of TV's biggest laughs. The Carol Burnett Show's "Went with the Wind!" sketch turns 35 today, first airing on November 13, 1976 on CBS. The skit starred Carol Burnett as Starlet, Harvey Korman as "Rat Butler," Vicki Lawrence as "Sissy," Tim Conway as "Brashley Wilkes," and Dinah Shore as Brashley's devoted wife, "Melody Hamilton." Though the curtain rod dress is the scene-stealer, the full sketch is almost 20 minutes long and pays homage to many of Gone with the Wind's most memorable moments, including Scarlett's closing monologue, her perilous fall down the stairs, Prissy's questionable knowledge about birthin' babies, and Rhett's famous last line.
The Archive is honored to have conducted interviews with several of the "Went with the Wind!" players. In her 2003 interview, Miss Starlet herself, Carol Burnett, said the following of Starlet's show-stopping dress:
"That was Bob Mackie. When I came in for costume fittings that Wednesday, and we taped on Friday, the original gag about the curtain rod was that Starlet pulls the curtains down and says, 'I'm going to make me a dress.' And it had been written that I come down the stairs with everything just kind of hanging, which would have been funny. But I went into costumes that day, and Bob says, 'I have an idea.' And he brought out the curtain rod with the green curtains on it. And I fell on the floor. I said, "this is the most brilliant sight gag I think, ever."
Bob Mackie, too, shared his memories of the curtain rod dress:
Vickie Lawrence, "Sissy," spoke of the "Went with the Wind!" writers and Harvey Korman's preparations for the role of "Rat Butler:"
And Harvey Korman and Tim Conway discussed Korman's spot-on Rhett Butler impression:
- Adrienne Faillace
For more on The Carol Burnett Show's "Went with the Wind!" and to view the sketch, visit our show page