50 Years Ago America Watched "The Great Debates" with candidates Kennedy and Nixon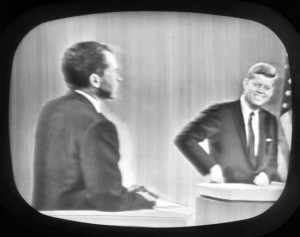 "The Great Debates"— a series of discussions with then-Vice President Richard M. Nixon and Massachusetts Senator John F. Kennedy— aired network-wide on September 26, October 7, October 13, and October 21, 1960.  Variety called the first debate a "dud," but history has said otherwise, labeling it landmark in Kennedy's eventual Presidential victory.  According to Presidential Debates: Forty Years of High-Risk TV by Alan Schroeder, the first debate "attract[ed] the largest audience that had ever assembled for a political event.  An estimated seventy million Americans watched on TV, while several million more listened on radio."  The debates have become notable for the reaction of the TV versus radio audience.  As stated in David Bianculli's Dictionary of Teleliteracy: "Nixon's gaunt, stubbly, and sweaty appearance, especially the first night, is generally said to have cost him the debate and perhaps the election: radio listeners ranked Nixon ahead of Kennedy, but Kennedy's ease in front of the cameras reflected a more comforting and commanding image, and TV viewers declared him the winner instead."
"When that [first] debate was over, I realized that we didn't have to wait for an election day. We just elected a president. It all happened on television." -- Don Hewitt (Producer/Director)
To commemorate the 50th anniversary of the "Great Debates," the Archive of American Television offers a special curated collection of Archive interviewees at Emmytvlegends' Kennedy-Nixon Debates— watch an excerpt from the first debate and Archive interview excerpts from debates' producer-director Don Hewitt, first debate moderator Howard K. Smith, CBS News President Sig Mickelson, and others.