You Can Own The Fonz's Motorcycle!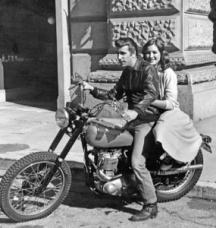 Arthur Fonzarelli's motorcycle is up for sale!  The famous bike will be sold on November 12 by Bonhams at their annual Classic California Sale at the Petersen Automotive Museum in Los Angeles. The late Bud Ekins owned the motorcycle, a 1949 Triumph Trophy TR5 Scrambler that he customized for use on Happy Days by removing the fender, spray painting the tank silver, and replacing the handle bars. The bike is expected to sell for between $60,000 and $80,000.
Tom Bosley (Howard Cunningham), Happy Days creator Garry Marshall, and The Fonz himself, Henry Winkler, spoke of Fonzie's motorcycle in their Archive Interviews. Did you know Henry Winkler couldn't actually ride the motorcycle?
Learn more about Happy Days by visiting our show page:
http://www.emmytvlegends.org/interviews/shows/happy-days