To the Batmobile! Batman's car is up for Auction!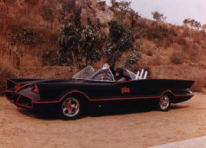 The Caped Crusader's iconic car goes on the auction block today, January 19th, 2013 at Barrett-Jackson classic auto auction house in Scottsdale, Arizona. Watch Batmobile owner George Barris describe how he transformed a 1955 Lincoln Futura concept car into one of the most identifiable automobiles of all time:
More details about the auction here and watch Barris' full Archive interview here. How much do you think the Batmobile will sell for?