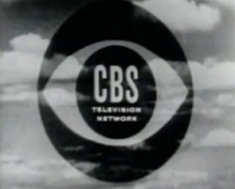 On October 20, 1951, CBS' trademark Eye made its television debut. CBS Creative Director of Advertising and Sales Promotion, William Golden, designed the Eye for network identification during station breaks. His inspiration for the design came from a visit to Pennsylvania Dutch country, where he noticed several hex symbols resembling a human eye. Golden enlisted the help of graphic artist Kurt Weiss, and together the pair created the first logo: a composite photo of the Eye, cloud formations, and the text "CBS Television Network" (see photo at left).
Then-President of CBS, Frank Stanton, decided to keep the eye around permanently as the CBS logo. The color, size and dimensions of the Eye have changed slightly over the years, but the design remains the same. Largely due to its consistency, the CBS Eye is one of the most recognizable and iconic logos in the world.
In his Archive Interview, Louis Dorfsman, a Graphic Designer at CBS during the 1950s, recalled the creation of the Eye:
To learn more about CBS in the 1950s, visit Frank Stanton's full archive interview.