Remembering William Froug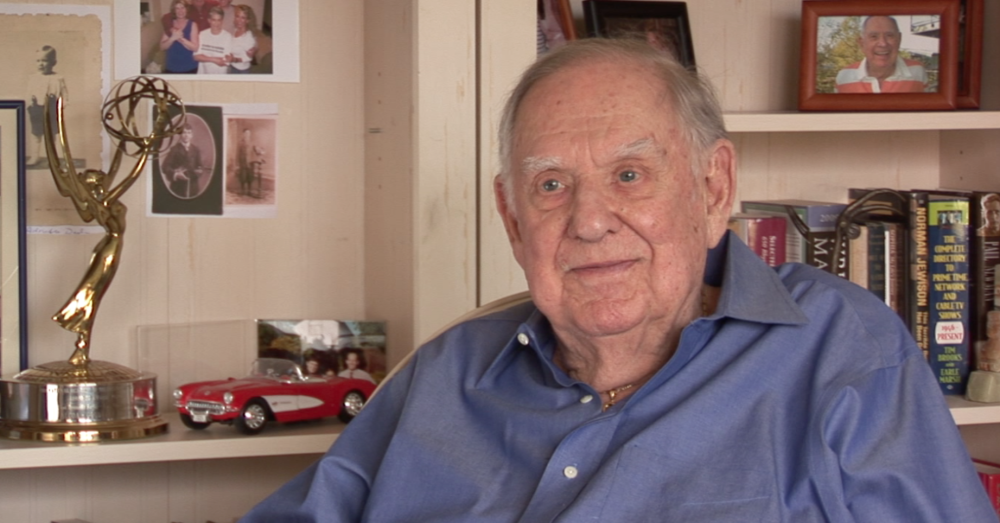 The Archive is sad to learn of the passing of writer/producer William Froug, who died on Sunday, August 25, 2013 at the age of 91. Froug was a prolific radio writer, and adapted, produced, and directed CBS radio's highly-acclaimed "Brave New World." In the television realm he wrote for Playhouse 90 and Dick Powell's Zane Grey Theatre, produced Alcoa-Goodyear Theatre's production of "Eddie" (starring Mickey Rooney), and also produced The Twilight Zone, Gilligan's Island, and Bewitched. He won an Emmy for "Eddie," was nominated for another for Bewitched, and in 1987 was the recipient of the prestigious Valentine Davies Award from the Writers Guild of America, West. He also served as Executive Producer in Charge of Drama for CBS, penned several renowned screenwriting books including "The Screenwriter Looks At The Screenwriter" and "Zen And The Art of Screenwriting," and taught his craft at both USC and UCLA.
Below are some excerpts from his 2011 Archive interview:
On becoming a writer in college:
I just started writing… Some word went around that they were doing what they called the J Show, which was the Journalism School's annual production. And for no reason I can think of, I sat down and wrote it. I was about 19 or 20. And I wrote the J Show and it was fun and it was produced. Became a musical. I think it had a weekend run, whatever, but it was a big hit. Gradually, a friend of mine said, "I didn't find writing; writing found me." True. I didn't plan to be a writer, but writing certainly grabbed me by the throat. And I kept writing.
On producing "Eddie" for Alcoa-Goodyear Theatre:
"Eddie" was an instant hit. The script came to me and it was called "Sammy". It was a monologue with a guy who was a minor league hood who's desperately trying to raise $900 to pay off his bookie. And he knows the bookie is going to send some guys over to beat the shit out of him. He's terrified. He's on the phone trying to sell phony, cheap cashmere sweaters, anything he can think of to raise 900 bucks. And this desperation comes - it was a great script - came through. I said, "you've got to do this script." It had a lot of anti-Semitic overtones, which I didn't like and wouldn't stand for. So I changed it from "Sammy" to "Eddie" and I said to Billy Sackheim, "with Mickey Rooney in this part it's a guaranteed Emmy." He said, "really?" It's a monologue. 30 minutes. He said, "Yeah? Let me see it." Billy always played the skeptic. That was his front. So he gets the script and he comes to see me the next day and says,"you're right. Mickey Rooney - guaranteed Emmy. So get him and you've got a go ahead." I said, "fine." So I got a writer to come in and change "Sammy" into "Eddie" and we shot it with Mickey Rooney in a day and a half and Rooney was off-the-chart brilliant.
On producing The Twilight Zone and working with Rod Serling:
On producing Gilligan's Island:
The first thing I did - amazing - they had not selected a site for Gilligan's Island. I talked to the Production Manager of CBS Studio Center who I knew. And he said, "Bill, we're in trouble. We're supposed to be on the air in six weeks and we have no 'Gilligan's Island.'" I said, "what are we going to do about it? Do you have a place?" He said, "yeah, I have a perfect spot but Sherwood Schwartz won't approve it. He's trying to force CBS into shooting in Hawaii. And CBS will not do it. The cost is way too extravagant. They're not going to put up a cast in Hawaii and pay their per diem. It ain't gonna happen." So I said, "what have you got?" He said, "I'll show you." So he takes me outside and right beneath the office window is valley floor, you know, like desert floor. Nothing there. He said, "this is 'Gilligan's Island.'" I said, "so what are you going to do?" He said, "I'm going to dig 6 feet down, fill it with city water. I'm going to surround it with potted plants and I'm going to block out all of the wires and all the telephone poles." And I said, "what about the traffic?" We were just off Ventura. He said, "we've checked it out. It's no problem. We're going to dampen it down with as much potted foliage as we can get." So I said, "start digging." That was it. So they started digging immediately and in six weeks we started shooting. They filled in sand which they brought in and all these potted plants. They did a fabulous job. As it happened, I had written a lot of Adventures in Paradise, for which we'd done the same thing. Made a lake in the backlot and we put potted trees all around it so it was an old scene. It worked great and I knew it immediately it would work great. And that was Gilligan's Island. Never left within 100 yards of my office. The whole island. It was wonderful.
On teaching:
It's in my blood. I can't explain that, you know. Like, "what made me have to be a writer?" I just knew I wanted to be a teacher. I didn't know. I just knew I had to do it and I love it. When I first started at CBS in radio, in the very beginning, I started a course one night a week in radio writing at CBS in one of their offices. Had like about three or four people show up. But I had this urge to teach. It's just in me. There's no "what led me to it" anymore than what led me to be a writer.
On his philosophy about screenwriting:
Well, basically, find a clear line. The key is to find a line. The storyline is king. And page 1, line 1 is when the story must start. You pick up the script, page 1, line 1, the reader has got to know what kind of story he's getting and what kind of genre to expect. Is it going to be a mystery? Is it going to be a comedy? What's it going to be? I called it the opening signal. Page 1, line 1. And then you've got to grab the audience within the first five pages. Preferably the first two. That's very important.
On advice to aspiring writers:
Write. There's only one advice. Write. Just keep writing. No matter how bad it goes, just keep writing. There's no other solution.
Watch William Froug's full Archive interview.