Remembering Richard Dawson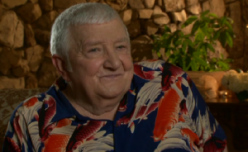 The Archive remembers Richard Dawson today, who passed away on Saturday, June 2nd, 2012 at the age of 79. Dawson was the long-time host of the game-show Family Feud, where he coined the famous phrase "survey says," and from 1965-1971 played "Corporal Peter Newkirk" on Hogan's Heroes.
Here are some selections from Dawson's 2010 Archive Interview:
On how he got into show business:
On the beginnings of Family Feud:
On kissing the contestants on Family Feud:
On the cancellation of Family Feud:
On Corporal Newkirk's accent on Hogan's Heroes:
Watch Richard Dawson's full Archive interview here.
Read his obituary here.