Remembering Producer Norman Felton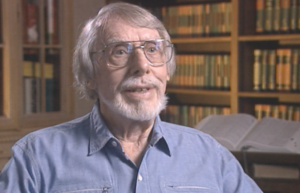 Noted producer Norman Felton died Monday, July 2nd, at the age of 99 in Woodland Hills, CA. Best known for producing the hit series Dr. Kildare and The Man from U.N.C.L.E., Felton began his television career in Chicago -- during the medium's first commercial years and worked on such groundbreaking series as Garroway at Large, and These are My Children. He then went to Hollywood where he worked on Robert Montgomery Presents, Playhouse 90, and Studio One and others, before starting his own Arena Productions company. He was interviewed for 4-1/2 hours by Lee Goldberg for the Archive of American Television in 1997. Here are some excerpts from the interview:

On being executive producer of the landmark dramatic anthology series Playhouse 90 in 1959, when the sponsor censored the word "gas" in "Judgement at Nuremberg"
The producer was Martin Manulis, Herb Brodkin, a couple of others. The network [CBS] did want me to have somebody overall in charge, and so I'd make comments to the producer and I would follow through with it. On the "Judgement at Nuremberg" teleplay,  the gas company was a principle sponsor and they said they said they would pull out if we used the word "gas" on the show. Because  how you told the story of Judgment at Nuremberg and Holocaust without using the word seems-- Herb Brodkin, who was the producer -- ridiculous, and I felt the same way.  The network tried to get me to do something about it.  I said, "there's nothing that can be done about it." They said, when they got close to air time,  "we can't give up the gas company. We promised them that we will take out the word." It was all live. Herb Brodkin believed that we were going to do it, and I said, "Herb, I've got to tell you that that's what they're going to do  and I can't do anything about it. If it's going through where we are, I might be able to get to the guys who are supposed to bleep that word out, but they tricked me, II don't know if I could have done anything and they're sending an engineer over here with someone and if the word is used we'll bleep it." And that's what happened. And he was furious.  I said, "I warned you that that was going to happen." There was nothing that I could possibly do.  It was the worse thing for the gas company.  It got the worse publicity it could possibly have when it came out that the word was bleeped out.... We didn't have people telling us what to do until the advertisers came along.
On the creation of television's Dr. Kildare
I wanted to do a medical show.  I hadn't been able to do it because at CBS they said, as the other networks did, who wants to go to a hospital?  That's the last place --  a person comes home from their job and they're going to turn on television and see sick people?  But in radio, I did plenty of them. I did a series of a medical nature, and I did in Chicago, while I was in radio  for the AMA. I didn't latch onto any property. [Another company had done a failed pilot featuring Dr. Kildare.] The reason it was called Dr. Kildare was after-the-fact they turned me down.  They didn't want to do another one. They didn't want to do anything medical.  I said, "well, I want to do one, and I did.  It was a very successful pilot. E. Jack Neuman was a fine writer. I said I want to do a medical show, and we had two or three discussions and one, he said, "I got a good idea, this is the story. I know it has to be set in a hospital. There are two gangsters who had a fight between them, and but one is on one floor and another is another floor of the hospital and they still are enemies." I said, "Jack, before we do anything, why don't you take a week off, go to a hospital, go around there.  That's what I want you to do for the next week. I don't want to see you around here.  Don't come on the lot.  Go to a hospital."  So he did.  And when he came back, I never heard about those gangsters again. He said, "it's terrific! I followed an intern and what they go through, and how they operate is just terrific with patients, and themselves and-- so I said  go ahead, and write it. It was a half hour script.  Because that's what my contract at that time, was, we expected a half hour. I went over to NBC with it and they liked it to much they said, "we'll make you a deal."  When the word got out that I sold this, then I think somebody in the board in New York said," is it going to be Dr. Kildare?"  Bob [Whiteman] said, "no, it's not like those old movies at all.  It's the story of an intern." And they said, "can't he be called Dr. Kildare?" He pointed out, as did the network, that it was a valuable title to get started with, the people would opt to tune it in.  So, that's how it got its name, is after-the-fact.
Video: On the genesis of The Man from U.N.C.L.E.
On the appeal of The Man from U.N.C.L.E.
In the sixties, there were a lot of  just unrest in the family. It was an escape.  It was good against evil.  And also, the thing that they liked was it was different nationalities.  At I cast two men in the leads who were short and not big husky men because, on business on Dr. Kildare, I was in London for a meeting, and when I was leaving, a lady, who was a comptroller, came to me and said, "why is it in America that you always have leading men who are big tall, sexy-- so called-- looking fellow, and why are they always American?"  I said, "I don't know. I guess because that's what people seem to like when they see them."  But the more I thought about it, as time went on, when it came to do the Man From U.N.C.L.E, I'm not going to do it.  And that's what made me like David McCallum and Robert Vaughn. They were slim and they were not big, as they used to say, ballsy men. That's the expression that was used.  So it worked. I think today, some of the kids say that's something that they really can identify more with, because they're younger than most of the heroes were in the western shows.
SEE THE FULL INTERVIEW HERE: HTTP://EMMYTVLEGENDS.ORG/INTERVIEWS/PEOPLE/NORMAN-FELTON