"NYPD Blue"/"L.A. Law" Creator Steven Bochco is Back!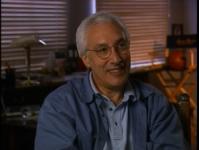 Writer/producer Steven Bochco (Hill Street Blues, L.A. Law) is returning to television! Bochco is partnering with Toronto-based Entertainment One to produce the one-hour sci-fi drama Evolution, a program set three million years in the future, showcasing a "Darwinian struggle for innovation and survival." Bochco and Bryan Law created the series; Bochco, Entertainment One's Michael Rosenberg and John Morayniss will executive produce, and Law will serve as supervising producer.
Watch Bochco's full archive interview to reacquaint yourself with the shows in his repertoire (Doogie Howser, M.D., Hooperman, NYPD Blue) and learn more about Evolution here.