Lessons in Lighting Design from Imero Fiorentino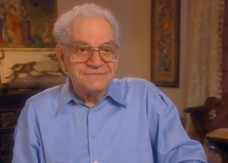 Even if you haven't heard of Imero Fiorentino, chances are you're familiar with his work. He was the lighting designer on may of ABC's earliest programs, including U.S. Steel Hour, Omnibus, Paul Whiteman's Goodyear Revue, and Tales of Tomorrow. He lit the scene for Telstar I's first live transatlantic transmission on July 10, 1962, and he designed the lighting for the World Showcase Pavilions at Disney's Epcot Center.
Perhaps the most famous broadcasts with which Fiorentino was involved: he lit the second, third and fourth Kennedy-Nixon debates after Nixon looked so undesirable in the first debate:
Learn more about the craft of lighting design by watching Imero Fiorentino's full interview.