Ladies and gentleman, it's the MUPPET SHOW!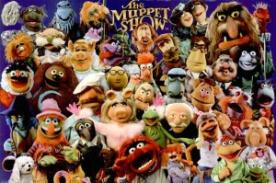 "It's time to play the music, it's time to light the lights, it's time to meet the Muppets on The Muppet Show tonight!"
Thirty-five years ago this month, The Muppet Show premiered. Its creator, Jim Henson, had a vision to create a program with his Sesame Street puppets that would appeal to both young and old alike. The show featured the  popular Sesame character Kermit the Frog as the manager of "The Muppet Theater". New muppets were introduced: Miss Piggy, Fozzie Bear, Gonzo, The Swedish Chef, Rowlf the Dog, Animal, Dr. Bunsen Honeydew, the critics Statler and Waldorf and many others. The puppeteers Frank Oz, Dave Goelz, Richard Hunt and Henson performed the characters that would appear in a half-hour program with a rotating cast of guest stars, skits, and musical numbers. Henson's manger, Bernie Brillstein, tried hard to sell the idea to networks but no one believed the puppets would work as anything except children's entertainment. Eventually, a British network agreed to produce the series. It was later sold in the Unites States as a syndicated series and first aired on September 5, 1976 with special guest Joel Grey. Over the next five years, the show featured a who's who of talented performers, including George Burns, Alice Cooper, Diana Ross, and Rudolf Nureyev. It went on to be nominated for twenty-one Primetime Emmy Awards. See below for some of our Archive interviewees who appeared on the show!
Jim Henson's Manager Bernie Brillstein on how difficult it was to sell The Muppet Show, because "puppets wouldn't work at night":
On Jim Henson and his vision for The Muppet Show:
The Muppet Show featuring Jean Stapleton:
The Muppet Show featuring Harvey Korman:
The Muppet Show featuring Florence Henderson:
The Muppet Show featuring Rita Moreno: