Ken Corday On "Days of Our Lives" and the Future of Soap Operas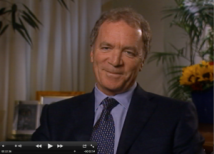 Bo and Hope, John and Marlena, Tom and Alice – some of the most beloved soap opera couples stem from Days of Our Lives. In his Archive interview, Days' Executive Producer Ken Corday takes us behind-the-scenes of one of America's favorite soaps. Corday shares that his parents, Ted and Betty, were two of the creators of Days of Our Lives. He discusses their contributions to the program, and describes many of the show's memorable storylines over the years -- from "Marlena's possession by the devil," to the harrowing "Cruise of Deception." In the following clip, Corday describes what it was like to lose Days of Our Lives patriarch MacDonald Carey, who portrayed the lovable "Tom Horton:"
Watch Ken Corday's full interview here.
About this interview:
Ken Corday was interviewed for nearly two-and-a-half hours in his office at Corday Productions in Burbank, CA. Corday talks about his parents, Ted and Betty Corday, who, along with Irna Philips and Allan Chase, created Days of Our Lives, which premiered in 1965. He describes the premise of the show and explains his initial involvement with the soap opera - as a composer of music cues for the series. He details his ascent up the ladder from assistant producer, to producer, and eventually to executive producer, taking the reins from his mother shortly before her death. Corday outlines lessons he learned from his mother, talks about all aspects of the show's production, and reflects upon several of the longtime cast members, including MacDonald Carey, Frances Reid, John Clarke, Suzanne Rogers, Deidre Hall, and Joseph Mascolo. He discusses successful storylines such as the "Salem Strangler," Marlena's possession by the devil, the "Cruise of Deception," the "Salem Stalker," and Philip's Iraq War mission. He speaks about his relationship with head writer Jim Reilly, whose unusual storylines have come to define the series over the last decade, comments on the concept of the "super couple" in daytime television, and discusses the future of daytime serials. Beth Cochran conducted the interview on April 26, 2006.