Katie Couric on her career at CNN, CBS, and more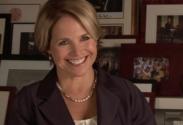 In her newly released 2010 interview, journalist Katie Couric describes her career in front of the camera as correspondent, reporter, co-host & anchor of some of television's most respected programs. She tells of her first on-camera debut at CNN, her role as co-host of NBC's Today, and how she hoped to revamp the traditional format of CBS Evening News while serving as television's first, female, fulltime anchor.
Watch Katie Couric's interview in its entirety here.
The Archive is saddened to learn of the passing of Katie Couric's father, John, whom she credits with her love of words and writing.  She speaks lovingly about her father in the excerpt below:
About this interview:
In her Archive interview, Katie Couric discusses her path from desk assistant at ABC News to desk anchor at CBS News. She details her love of writing and how she became interested in journalism while in college, and shares the tales of her not-so-glamorous debuts as an on-camera reporter for CNN in Washington, D.C. and as an anchor for the WTBJ local news in Miami. Despite these setbacks, Couric recounts how she persisted and proceeded to anchor the news at WRC in Washington, D.C., to work at the NBC News Washington Bureau, and subsequently, to co-host Today. She speaks of her experience on Today and on transitioning to CBS Evening News, and describes what it means to her to be the first solo female news anchor. The interview was conducted by Karen Herman in New York on June 18, 2010.