Jeffrey Hayden Interview Now Online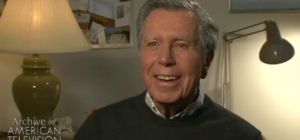 Interview Description:
In his Archive interview, Jeffrey Hayden talks about his career as an associate director in the first years of the ABC-TV network (1948-50) and as a prolific director of comedy and drama series from the 1950s to the 1980s, including: The Donna Reed Show; The Andy Griffith Show; 77 Sunset Strip; Peyton Place; Quincy M.E.; Palmerstown, U.S.A.; and Knight Rider.  Hayden outlines how he came to produce one of the earliest sitcoms The Billy Bean Show (with Arnold Stang), before he began his work as a director gaining experience on such programs as the variety series The Bert Parks Show and quiz/variety show The Big Payoff.  He talks about his acceptance into the Actors Studio and its influence on his work, and notes throughout the interview the importance of rehearsal and improvisation to his directing style. Among dramatic series, he comments on the Philco-Goodyear Playhouse (and a memorable production he did with a difficult James Dean), 77 Sunset Strip (and the rewrites he'd do with the cast during lunch hour, despite network warnings to stick to the script), and The Lloyd Bridges Show (which he describes as one of the most arduous directing jobs of his career). He speaks fondly of his years on The Donna Reed Show, working with writer-producer Paul West who incorporated some of Hayden's own family life into scripts and The Andy Griffith Show, a reunion with Griffith whom Hayden knew from his college days.  For Peyton Place, Hayden notes his working relationship with breakout stars Ryan O'Neal and Mia Farrow (and the dramatic real-life moment when Farrow decided to cut her hair short mid-season).  Among the other personalities he discusses are: E. G. Marshall (The Bold Ones), Peter Deuel (Alias Smith and Jones), Raymond Burr (Ironside), and Jack Klugman (Quincy, M.E.).  Additionally for Quincy, Hayden discusses memorable episodes: "Seldom Silent, Never Heard," that influenced the passing of the Orphan Drug Act (ODA) and "Nowhere to Run," whose incest storyline hampered actor Charles Aidman's career.  He recounts the challenges he faced working on the series The Incredible Hulk, Knight Rider, and Palmerstown U.S.A. (this series led to a DGA rule about providing drivers to locations). Lastly, he acknowledged his satisfying work on daytime soaps Capitol and Santa Barbara (a return to the kind of work he did in his "live" TV days) and on two documentaries he made in the 1990s. Jeffrey Hayden was interviewed in Los Angeles, CA on April 29, 2010; Stephen Bowie conducted the two-and-a-half-hour interview.