Jack LaLanne-- Fitness Guru and TV Legend-- Has Died at age 96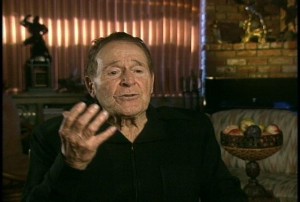 Jack LaLanne's fitness shows spanned from the 1950s to the 1980s, and earned him a star on the Hollywood Walk of Fame.
Interview description:
Jack LaLanne was interviewed for two hours in Morro Bay, CA.  He spoke about his youth as a gawky teenager, and how his interest in bodybuilding transformed him into a fitness guru. He chronicled the founding of his gym and the creation of his syndicated Jack LaLanne Show. He talked about the production and format of the long-running show as well as the origins of many of its signature elements and marketing promotions. He also discussed his guest appearances on other series including The Ed Sullivan Show and You Bet Your Life.  B-roll consisted of a personal tour of his home gym as well as some of the first bodybuilding machines he invented. Also included on the b-roll was a short stand-up interview with his wife (and co-producer) Elaine LaLanne.  The interview was conducted by Karen Herman on September 12, 2003.