"I Love Lucy" Turns 60 - The Archive has some 'splaining to do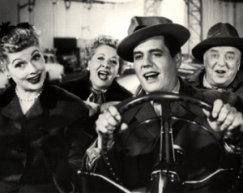 I Love Lucy debuted 60 years ago on October 15, 1951 and within 6 months became the first TV show to be seen in 10 million homes. Today it's still broadcast in reruns all over the world. The Archive has not only conducted interviews with many of the show's cast and crew members, but with numerous other TV legends who were fans of or inspired by the popular sitcom.
Watch Archive interviewees Sheldon Leonard, Dann Cahn, William Asher, Madelyn Pugh Davis and Bob Carroll, Jr., Army Archerd, Bob Schiller and Bob Weiskopf, Jay Sandrich, Mary Tyler Moore, Keith Thibodeaux, Sidney Lumet, A.C Lyles, John Forsythe, Doris Singleton, and Dixon Dern reminisce about I Love Lucy in this video:
Here are a few more little-known facts about I Love Lucy, straight from those who worked on the show:

THE SHOW'S SPONSOR WAS PHILIP MORRIS CIGARETTES, BUT THAT'S NOT WHAT DESI SMOKED
Irma Kusely - I Love Lucy's hairdresser

"Philip Morris was the sponsor. And Desi smoked Chesterfields. So I don't know how they did that."
NO I LOVE LUCY SCENE LASTED LONGER THAN 10 MINUTES
Dann Cahn - Editor
"Ten minutes at a time. Each reel of film, of a load, was ten minutes. They timed a scene to be shot within ten minutes. They never ran ten. Seven, eight were the most… Then they'd entertain the audience and they'd do another one."
DESI EMBRACED JOKES ABOUT HIS ACCENT, AND EVEN JOKES HE DIDN'T UNDERSTAND
Madelyn Pugh Davis and Bob Carroll, Jr. - Writers
"Sometimes he would fool us. We wrote it and he says, 'he wouldn't say it that way.' I forget the word, a couple of them were like that … He never minded and there's an interesting thing, he admitted years later, sometimes there'd be a joke that was based on American slang or something… And he wouldn't know what it was, but he never let on … we'd do some little joke on that and he never said a word. He told me, 'well, I figured you guys said it was funny, it was funny, but I didn't know what it meant.'"
THE FAMOUS SHOT OF LUCY, RICKY, FRED AND ETHEL DRIVING TO CALIFORNIA (SEEN ABOVE) WAS THE FIRST PROCESS SHOT FOR TELEVISION
Dann Cahn - Editor
"I packed up and I met an agency in New York and I went across the George Washington Bridge and made that famous first process shot for television - which was when they went across the bridge singing "California Here We Come." They were in the Pontiac with the top down, but they were sitting on the sound stage with the audience. And behind them was the what we called process film plate, which I shot out of the rear end of a station wagon of going across the bridge, and it was projected behind them on the screen. And that was the first process photography for television. Momentous moment, and it looked great, and there's still stills all over the place of them on the bridge driving in the Pontiac, which you can buy anywhere."
THE SHOW SHOT ON THURSDAY BECAUSE DESI LIKED LONG WEEKENDS
Ted Rich - Editor's apprentice
"They'd shoot the shows - like on The Lucy Show, we'd shoot on Thursday. It'd start on Monday, but Desi wanted to shoot the show on Thursday because he loved to play golf and they had a home in Palm Springs. And they'd take off Friday and they'd go away. So they'd shoot the show on Thursday."
DEAN MARTIN REFUSED TO REHEARSE
Ted Rich - Editor's apprentice
"We had Dean Martin, coming on as a guest on the show. They were scared to death because Dean Martin would not rehearse. He would not come in at all. He did it spontaneous as he came on. And they - Desi Arnaz was so worried and Billy Asher was our director. They were so concerned, because sometimes, I don't know whether it was true about whether he had an alcohol problem or what. You never know when you're relaxed and you have an audience there. But they went ahead with the show because they had him billed for it and the script written for him and, by gosh, we filmed the show and Deanwalked right on and did his scene and it worked great and it was hysterical. But the cameras don't know where he's going to be or what and again, he's saying that same thing, once he got on the set, stay with him. Because even though he's doing that episode, he's going to finish. If we miss Lucy or Desi Arnaz in something of the coverage - we can pick it up the next episode. It wouldn't be a problem because the sets didn't change that much. But it was scary in those kinds of situations when we had a person like that come on and you don't know what to expect. It was a nail-biting time for them."
RED SKELTON GAVE LUCY PANTOMIME LESSONS
Jay Sandrich - Assistant Director
"One of the most interesting experiences I had is when we did an hour show with Red Skelton. There was a scene in a boxcar and they're both hobos as they called them in those days, and he is doing a pantomime of eating a meal and she's supposed to do it exactly the way he did it. So she stopped him in rehearsal when he started, and he was a great pantomimist and she said, 'how do you do that?' And he said, 'I don't know. I just do it.' And she said, 'no you, you've got to show me.' He said, 'well what do you mean?' She goes, 'show me how you do it.' So for about two or three hours, he tutored her. 'Well you've got to feel that there's a glass there. You got to feel the weight, when you bring it up to your lips and you've got to pretend like you're swallowing the liquid.' And she'd say, 'show me.' And he'd do it, not quickly. He'd have to do it moment by moment by moment. By the end of those two or three hours, whatever it was, she was as good as he was."
NOT ALL OF THE CHICKS SURVIVED THE "LUCY RAISES CHICKENS" EPISODE
Jay Sandrich - Assistant Director
"The other one I remember which was not a happy experience, we had a bunch of chickens, baby chicks and they bought them at the beginning of the week and they were in a box. And by the time Thursday came around, take the lid off the box, one of 'em was big enough to crawl out of the box and crawl on the floor and one of the cameras rolled over it right in front of the audience. I mean the cameraman didn't see it or anything, and try to get an audience to laugh after they'd just seen a baby chick run over. Horrible."
ACTOR KEITH THIBODEAUX NEVER GOT SCREEN CREDIT AS LITTLE RICKY
Keith Thibodeaux - Little Ricky
"No, never, never did… Well only thing I can guess is that they wanted people to think that little Ricky was their real son, Desi Jr., Desi Arnaz Jr. So whenever I did get mentioned, it was always, 'Lucile Ball, Desi Arnaz, William Frawley, Vivian Vance, and Little Ricky,' so it could have been Rin Tin Tin for that matter."
- Adrienne Faillace

For even more about I Love Lucy, click here to visit the Archive's show page.