Exactly WHO are they talking to? Christopher Lloyd on "Modern Family" & more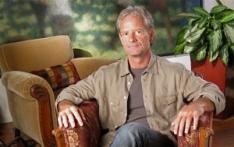 Writer/producer and 8-time Emmy winner Christopher Lloyd was interviewed by the Archive in 2010.
He discussed writing for The Golden Girls, Frasier, and in great detail about the Emmy-winning comedy series Modern Family (nominated for Outstanding Comedy Series again this year!) which Lloyd co-created with Steven Levitan. He also talked about the influence his father, comedy writer David Lloyd (The Mary Tyler Moore Show) had on him. Watch the 63rd Primetime Emmy Awards this Sunday, September 18 on FOX.
On developing Modern Family:
On Modern Family's mockumentary style and the "stolen camera" approach:
On casting Modern Family (Ed O'Neill, Ty Burrell, Sofia Vergara, Julie Bowen, Eric Stonestreet, Jesse Tyler Ferguson):
On coming up with ideas for the show:
On the production schedule and format of the show:
On being surprised by the success of the show:
On his favorite Modern Family episodes:
On working with partner Steven Levitan:
On working with actors versus writers:
On what he strives to achieve on Modern Family: