Diane English on "Murphy Brown", "My Sister Sam" and more!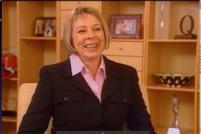 Archive Interviewee Diane English is no stranger to the big or small screen.  In her two-and-a-half hour interview, she discusses writing for television's Foley Square, My Sister Sam, and Ink, among others; tells of her feature-film directing debut for The Women; and describes the creation of Murphy Brown.
In the following clip she explains how she came up with "Murphy Brown's" unusual name:

Watch Diane English's full interview here:
About this Interview:
Diane English was interviewed for two-and-a-half hours in North Hollywood, CA. English discusses her upbringing in Buffalo, New York, where she first worked as an English and drama teacher before moving to New York City to pursue a career in playwriting. She describes how she instead landed her first industry job at public television station WNET, and began writing for the small screen --penning PBS' first television movie, The Lathe of Heaven. English outlines her first forays into half-hour comedies as a writer for Foley Square and for My Sister Sam, and speaks at length on the creation and production of her hit series, Murphy Brown. She divulges which actress she asked to play "Murphy Brown" before Candice Bergen won the role, and sheds light on the infamous debate on single-motherhood sparked by then Vice President, Dan Quayle. She chronicles the formation of her production company, Shukovsky/English, with husband Joel Shukovsky, and details her film and television work (The Women, Love &War, Ink) since Murphy Brown went off the air. Jenni Matz conducted the interview in a joint venture with American Comedy Archives (at Emerson College) on February 8, 2007.