Alan Armer, Producer of "The Fugitive" and Former TV Academy President, Has Died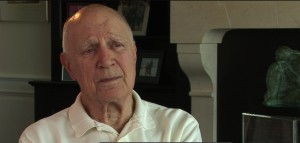 Alan Armer, who won an Emmy Award as the producer of the classic adventure series The Fugitive, has died at the age of 88.  Armer served as the President of the Hollywood Chapter of the National Academy of Television Arts & Sciences in the early 1970s and began his career at local L.A. TV's KNBH (KNBC) in the 1950s.
Alan Armer's Archive interview was conducted on July 15, 2008.
Interview Description:
Alan Armer talked about his early years growing up during the Great Depression.  He spoke about his studies in speech and drama and his practical experience as an announcer in radio, and acknowledged winning a World's Fastest Talker contest, while a teenager, speaking 617 words in 57 seconds.  He described his years in local television in Los Angeles at KNBH (now KNBC) where he worked in many capacities and developed the series Lights, Camera, Action, a showcase for new young acting talent.  He chronicled his work as a producer at 20th Century Fox in series television, where he produced My Friend Flicka and Broken Arrow.  With Broken Arrow's production falling during the era of the Hollywood Blacklist, Armer revealed that the series' original writers could not be hired, rejected by the sponsor (but that he later employed them on The Fugitive).  He spoke in great detail about his association as executive producer with the classic crime series The Untouchables.  For this series, he commented on: the controversy that arose due to the show's portrayal of Italian-Americans, the necessity to tone down the show's depiction of violence, and Robert Stack's performance as Eliot Ness.  He then talked about his work with Quinn Martin on the series The Fugitive.  For The Fugitive, he gave his impressions of the cast, commented on the series highly-rated finale, and noted the series' Emmy win for Best Drama Series.   He also touched on later Quinn Martin-produced series The Invaders and Cannon.  Lastly, he talked about serving as President of the Hollywood Chapter of the National Academy of Television Arts & Sciences in the early 1970s, and the increase in membership and creation of the Film Group screenings during his tenure.  The interview was conducted by Stephen J. Abramson.