Actor Harry Morgan Dies at 96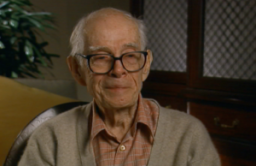 Veteran character actor Harry Morgan passed away at his Los Angeles home this morning at the age of 96. Morgan began his career on the stage, appearing in Broadway's "Golden Boy" in 1937, and signed a contract with 20th Century Fox shortly after his move to California in 1942. He appeared in over 100 movies, including Frankie and Johnny with Elvis Presley, and was one of television's most prolific actors. Memorable TV roles include that of Officer Bill Gannon, opposite Jack Webb's Sgt. Friday on the 1967-70 version of Dragnet, and of Colonel Sherman Potter on M*A*S*H. In 1980 he won an Emmy for Best Supporting Actor for the latter. Morgan also appeared in December Bride, Pete and Gladys, and guest starred on numerous shows, including Murder, She Wrote and 3rd Rock From the Sun.
Below are some excerpts from Morgan's 2004 interview:
On working with Elvis Presley:
On his role on Dragnet:
On M*A*S*H's Colonel Potter:
On the finale of M*A*S*H:
On winning an Emmy:
On how he'd like to be remembered:
"I'd like to be remembered for being a fairly pleasant person and for having gotten along for the most part with a lot of the people I've worked with. And for having a wonderful life and for having enjoyed practically every minute of it. Especially in the picture business and on the stage and I think I'm one of the luckiest people in the world."
See Harry Morgan's full Archive of American Television interview here
Read his New York Times obituary here